Grow your Email Lists and Sales with OptinAble™
The Ultimate Free WordPress Plugin for building popups, collecting Emails, and converting abandoning visitors into Leads.
Building Popups Made Easy
What You Can Do With OptinAble

Grow Your Email List
OptinAble makes it easy for you to capture email subscribers, through customizable popups, forms, and other lead generation tools.
Increase Sales
Utilize powerful popups to promote special offers, discounts, and incentives, driving more sales and revenue for your business.

Promote Products & Offers
Create excitement around new product launches by using popups to showcase teasers, sneak peeks, or pre-order opportunities.

Reduce Cart Abondonment
Prevent visitors from leaving their shopping carts behind by displaying exit popups with enticing offers and incentives.

Increase User Engagement
Enhance user engagement on your website by delivering personalized popups that capture attention and drive action.
Collect Form Submissions
Effortlessly collect form submissions and valuable user information by using OptinAble's customizable popups and forms.
Enhance Customer Support
Provide exceptional customer support by using popups to offer live chat assistance, FAQ resources, or contact forms for quick inquiries.

Increase Event Registrations
Boost event registrations by using popups to promote upcoming webinars, workshops, or conferences and capture attendee information.

Reduce Bounce Rate
Keep visitors engaged and on your website longer by using exit-intent popups to offer relevant content or incentives before they leave.
Prominent Features

Exit Intent Trigger
Turn abandoning visitors into valuable leads with the Exit Intent Trigger. Display your opt-in campaign when user is leaving.

Time Trigger Control
Set specific time for campaigns to display or hide at the perfect moment, ensuring maximum visibility and engagement.

OptinLinks™
With OptinLinks™, simply copy & paste the shortcode to add a button that triggers your opt-in campaign from anywhere on site.

Referral Identification
Trigger your campaigns based on specific referral sources.

URL Query Detection
Trigger campaigns when specific query parameters are detected in the URL.

Responsive
Ensure a responsive layout by providing a user-friendly experience for mobile users.

Drag & Drop Builder
Easily create stunning campaigns with our intuitive Drag & Drop Builder. No coding is required.
Built-in Templates
Get started quickly with our collection of professionally designed Built-in Templates.

Animation
Bring your popups and campaigns to life with engaging animations to increase engagement.
Stunning Pre-Built Templates
Save time and effort with our collection of professionally designed beautiful templates that are optimized for maximum lead generation.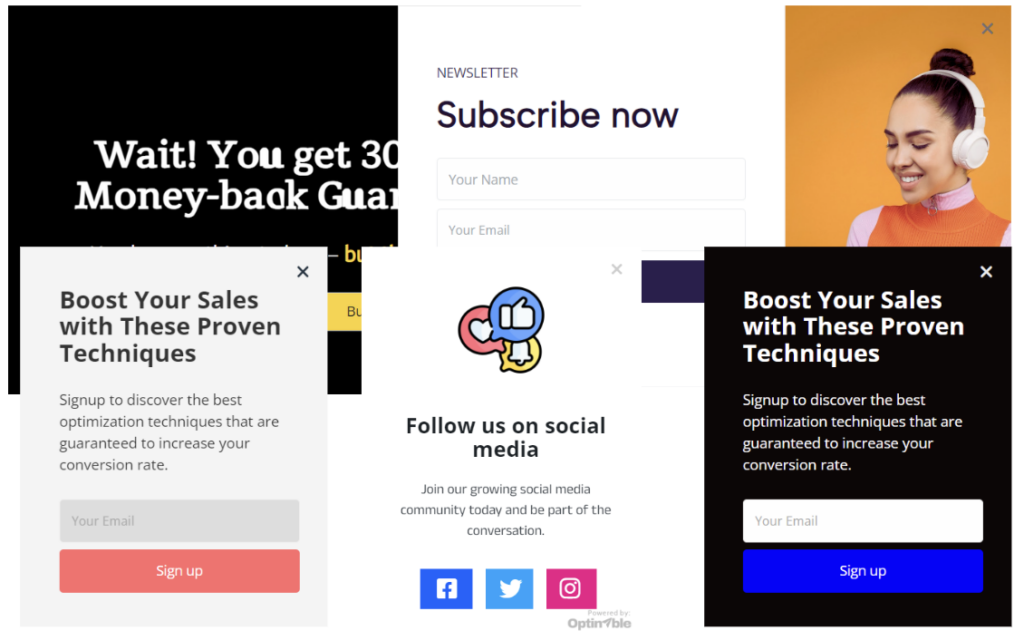 Frequently Asked Questions
Is OptinAble™ a free WordPress plugin?

Yes, OptinAble is a free WordPress plugin. There is no premium version or ad-on at the moment. So anyone can download and install on their WP site.
How OptinAble™ is different than Hustle and Pop-up Maker?

OptinAble is the only WordPress plugin which is FREE and providing all features free. While most of its competitors like Hustle and Pop-up Maker have premium versions which means you will have to pay a amount to unlock all of their features.
Difference between OptinAble™, OptinMonster, OptiMonk, SleekNote?

OptinAble is a WordPress plugin which only works on WordPress based websites/blogs and its FREE. While the others mentioned above are Software as a Service (SaaS) tools and you will have to pay a monthly recurring fee to make it run.
What if I am using any other tool and want to join the OptinAble club?

That's great. If you are using any other tool such as (OptinMonster, OptiMonk, SleekNote, ThriveLeads, Poptin, Hustle, Popup Maker etc), send us an email and we will help you migrate your data. Email: [email protected]
Do I need to have coding skills to use OptinAble?

No, All you need is to create a campaign, select any templates from the available library and publish it. The user experience is made as simple as possible to use.
Grow Your Mailing List
The One and Only FREE and complete solution for building Popups, Stickybars, and Embed forms for WordPress blogs.