When it comes to optimizing your call-to-action (CTA) and driving conversions on your website, Pop-up design templates can be a game-changer. OptinAble offers professionally design templates that are visually appealing, grab your visitors' attention and encourage them to take action.
In this article, we will explore some of the best Pop-up design templates that are specifically crafted to boost your call-to-action. By implementing these templates, you can enhance the effectiveness of your CTAs and maximize your conversion rates. Let's dive in and discover the templates that will bring clicks.
What is a Popup Call to Action?
Pop-ups are an effective way to grab visitors' attention and guide them towards taking specific actions on your website. A key element of a successful pop-up is a compelling call-to-action (CTA) design.
The call-to-actio (CTA) serves as the button or message that prompts visitors to engage further, whether it's making a purchase, signing up for a newsletter, sharing content, or exploring more of your offerings.
Including a powerful CTA in your Pop-up design offers several benefits. It provides clarity and directs visitors towards the desired action, eliminating any confusion or uncertainty. A well-crafted CTA also creates a sense of urgency or excitement, encouraging immediate response.
What you can get from Popup call to action?
A well-executed Popup call to action (CTA) can offer several valuable outcomes for your website or business:
Increased Conversions: A well-designed and strategically placed popup CTA can significantly increase your conversion rates by directing visitors' attention and guiding them towards taking a specific action.
Improved User Engagement: Popup CTAs provide an interactive and attention-grabbing element on your website, encouraging visitors to engage with your content or offerings. This can result in longer site visits and increased user interaction.
Enhanced Lead Generation: By strategically placing Popup CTAs, you can prompt visitors to provide their contact information or subscribe to your mailing list, effectively generating leads for your business.
Targeted Messaging: Popup CTAs allow you to display personalized and targeted messages based on user behavior, preferences, or specific segments. This enables you to deliver more relevant and compelling offers, increasing the chances of conversions.
Promotional Opportunities: Popup CTAs are effective tools for promoting special offers, discounts, or limited-time deals. They create a sense of urgency and encourage visitors to take advantage of the promotion, resulting in increased sales or sign-ups.
Improved User Experience: Well-designed popup CTAs that are not intrusive or disruptive to the user experience can actually enhance user satisfaction. By providing relevant and valuable information or offers, you can improve the overall experience of your website visitors
Pop-up Call-to-Action Design Templates
By using the best Pop-up design templates, you can optimize your CTAs for maximum impact. These templates are professionally designed to attract attention, convey your message effectively, and align with your brand identity. They provide a visually appealing and cohesive presentation that enhances user experience and increases the chances of conversion.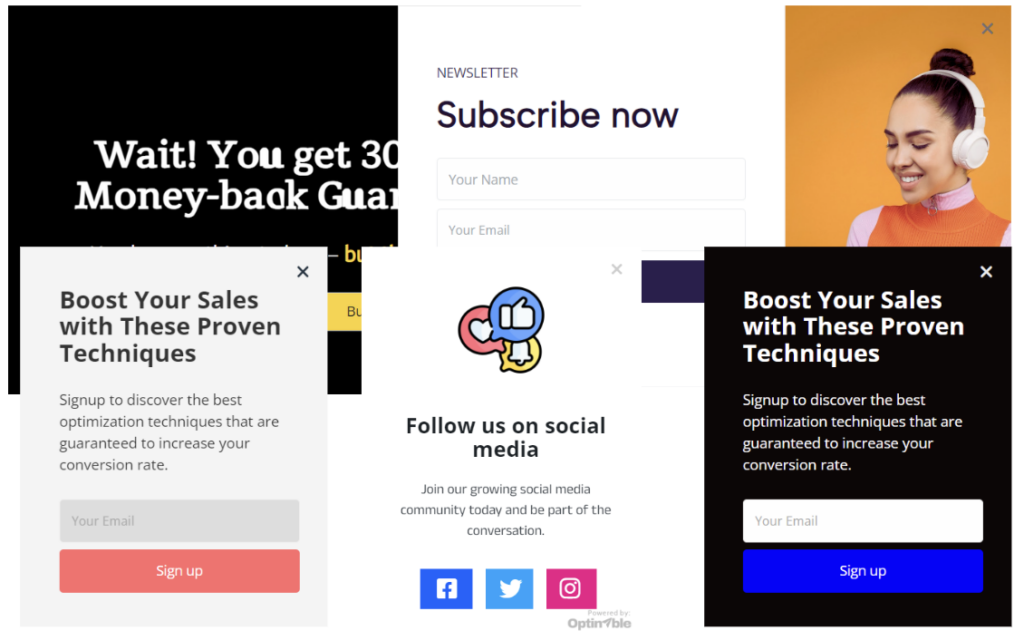 1. Best Popup Design to Grow Email List
OptinAble offers a collection of best popup designs specifically crafted to boost conversions. These visually engaging templates, combined with strategically placed call-to-action buttons and persuasive headlines, create a compelling user experience.
The OptinAble below-mention template helps you to boost your conversion rate with appropriate display rules. With customizable options and mobile-responsive designs, OptinAble ensures that your popups seamlessly adapt to different devices. The integration of exit-intent technology, and analytics features further enhance the effectiveness of these designs.
CTA: Sign Up
With customizable options and mobile-responsive designs, OptinAble ensures that your popups seamlessly adapt to different devices. The integration of exit-intent technology, and analytics features further enhance the effectiveness of these designs. By leveraging OptinAble's best popup designs, you can effectively engage your audience, drive action, and achieve higher conversion rates.
2. Newsletter Popup
OptinAble revolutionizes your newsletter signups with built-in free advanced popup designs. Say goodbye to dull and irritating designs, and say hello to captivating and engaging popups that drive conversions.
CTA: SUBSCRIBE
With our user-friendly platform, you can easily customize the design, layout, and content of your popups to match your brand and capture the attention of your audience. Don't miss out on the opportunity to boost your newsletter subscriptions with OptinAble's innovative and visually appealing popup designs.
CTA: Subscribe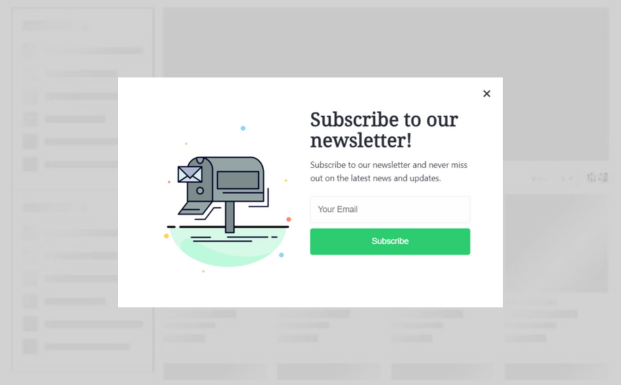 By leveraging OptinAble's popup call to action capabilities, you can effectively capture the interest and curiosity of your visitors, compelling them to subscribe to your newsletter. Don't miss out on the opportunity to maximize your newsletter subscriptions and boost audience engagement with OptinAble's powerful and visually appealing Popup designs.
3. Product Updates Popup
With OptinAble, you have the power to engage and inform your website visitors like never before. Our advanced popup call-to-action designs are tailored to capture attention and drive action. Whether you want to announce new products, share updates on your services, or deliver important messages, OptinAble's Popup designs offer a visually appealing and user-friendly solution.
CTA: Submit
Say goodbye to outdated and ineffective Popups and embrace the power of OptinAble to effectively communicate with your audience.
With our innovative designs, you can create a seamless and engaging user experience that encourages visitors to take the desired action. Elevate your website's performance and conversion rates with OptinAble's exceptional popup designs.
4. Discount Offer Popup
OptinAble understands the power of discounts in attracting and converting new customers. Whether you're launching a new store or looking to expand your customer base, offering exclusive discounts through OptinAble can be a game-changer. Our user-friendly platform allows you to customize the discount codes, set expiration dates, and target specific customer segments.
CTA: Sign Up
By leveraging the irresistible appeal of discounts, OptinAble helps you create a compelling incentive that encourages new users to take action and make their first purchase. Get ready to unlock new opportunities and boost your customer acquisition with OptinAble's discount code capabilities.
5. Announcement Popup
Harness the power of announcement popups with OptinAble to engage and convert your website visitors. By creating compelling call-to-action buttons in your campaigns, you can effectively capture attention and entice visitors to take action.
CTA: Buy Now
Whether you want to promote a limited-time offer, showcase a new product, or communicate important updates, announcement popups provide an impactful way to deliver your message.
With OptinAble's intuitive platform, you have the freedom to design eye-catching popups and strategically display them to boost your conversion rates. Don't miss out on the opportunity to captivate your audience and drive meaningful actions with announcement popups powered by OptinAble.
6. Email Signup Form Popup
OptinAble's Email SignUp form popup empowers you to drive action and build a strong connection with your audience. Leverage the power of your brand and entice visitors to join your email list, unlocking valuable opportunities for engagement and nurturing customer relationships.
Maximize the impact of your call-to-action with OptinAble's Email SignUp form popup and take your email marketing efforts to new heights.
CTA: Sign Up
With its customizable design and seamless integration, you can effortlessly capture email signups and expand your subscriber list. OptinAble's Email Sign Up form popup simplifies the process of building a valuable subscriber base, ensuring that your call-to-action is both effective and engaging.
Conclusion
By utilizing OptinAble best design templates, you can effectively capture your visitors' attention, communicate your message clearly, and drive them towards your call-to-action. Remember to customize the templates to align with your branding, keep the design visually appealing, and test different variations to optimize performance. With the right pop-up design templates, you'll be well-equipped to boost your call-to-action and achieve your conversion goals.