OptionAble powerful drag and drop builder eliminate the need of coding knowledge and allows you to create attention-grabbing campaigns to reach the high rate of lead conversion and engage the customer for a long time.
Simply just drag and drop the elements to make an attractive design of opt-in forms such as pop-ups, sticky bars, slide in and embeds and create visually appealing campaigns.
Create your campaign layout by using a wide range of customization options of drag and drop builder. The flexibility of the builder allows you to make changes in pre designed templates and create the new one from scratch.
Drag and Drop builder of OptinAble provides you user friendly interface which are easy to use and allow the user to customize layouts , font, color and much more things to get high leads.
The builder allow the user to see the changes in real time to make the whole process easier.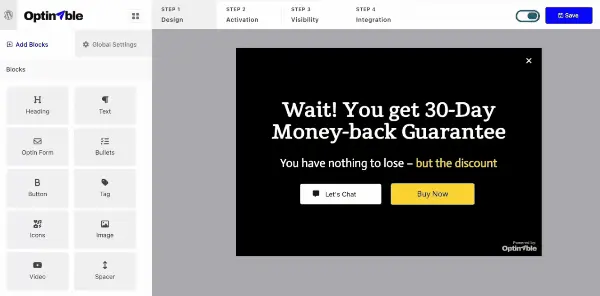 Offer Wide Range of Customization
In order to make campaign to grow your email subscriber list, improve sale, increase engagement and hit the target revenue, our fully loaded builder offers wide range of elements to make it happen.
Make changes in OptinAble built in templates or create from the scratch is easy with the drag and drop builder.
Eliminate need of coding knowledge
The OptinAble builder eliminate the need of coding knowledge to make website elements that boost your conversion. An individual without any technical skills or expertise can make the campaign using drag and drop elements easily.